Some times web developers need to add some audio files to the web page as ( background sound ,attached mp3 files, albums  ) , so Flash Mp3 players let web developers and bloggers embed music players and build customized Jukebox on the websites.
With these online music players , you can add a list of songs easily or may be background sound and also you  can have your own skin that suit the web theme .
1.Free MP3 Music Player for Website [premiumbeat].
You can chose one of  six different versions, which includes single track, multiple tracks, with/without menu, mini version and single flash player with loop. Songs are saved into a XML format playlist.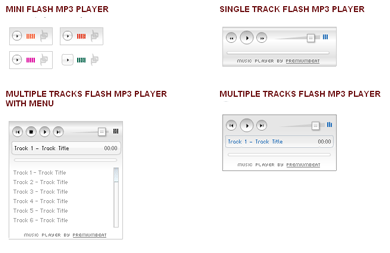 A Scriptable, Lightweight Flash MP3 Player and it is controllable with JavaScript

3. flash mp3 player .
It's an audio player for MP3 file, intended for the diffusion on websites.
It's open source, free and customizable.
You have the choice among 5 types ( MINI/NORMAL/ MAXI/ MULTI/ JS)

Flash MP3 Player is a free application that allows you to play music on your website easy and fast. You won't need any programming skills to install or use it. Just embed it into your website and player will automatically scan a specified folder and form a playlist.

5. JW Player.
Open Source: Flash Video Player for FLV, H.264/MPEG-4, MP3 and YouTube Videos on your website .
The JW Player for Flash is the Internet's most popular and flexible media player. It supports playback of any format the Adobe Flash Player can handle, as well as HTTP and RTMP streaming and various XML playlist formats. A wide range of settings (flashvars) can be set, and an extensive javascript API is available. The player's skinning functionality allows you to completely customize its look, and the plugin architecture allows you to easily extend the player with features such as sharing, analytics and ad serving.

Audio Player is a highly configurable but simple mp3 player for all your audio needs.

7. Muzicions .
Muzicons are music widgets that you can post on your blog or website. In 4 easy steps you can create your Muzicon. First you can choose the icon you like there is a large selection from flowers to lightning bolts. Then you upload the song you want to play. Once you have chosen your icon and music you can insert your text, then you can choose the color for the widget. Once you have created your Muzicon you can post it on your blog or website or both by copying the html code .

8. AudioPlay.
AudioPlay is a one button Freeware MP3 player based on Flash technology. Simple upload AudioPlay and music file to your web page account …and that's all :-). Edit configuration (config.xml or put options directly to URL). You could customize background color, loop settings and autostart options. You can customize player's play/stop button by preparing your own button images. If you are looking for demo player for your sound clips or background music player for your website then AudioPlay is ideal for you. Additionally AudioPlay is very lightweight.

9. Dewplayer .
The easiest way to put mp3 audio files on your web pages ! This flash animation is very light and easy to use. It downloads and plays the mp3 file when the play button is pressed. Dewplayer is under Creative Commons licence. The usage is totally free even for commercial purposes (but not reselling it).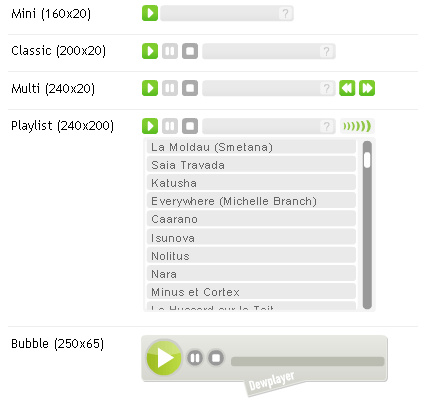 10.Flabell Simple Flash Mp3 Player.
Minimalistic Mp3 player with a twist, perfect for your website. It supports the basic functions of an mp3 player:
– play
– pause
– draggable volume bar
– sound visualizer
It includes a special sound visualizer that changes when you drag the volume bar.

(Visited 21 times, 1 visits today)